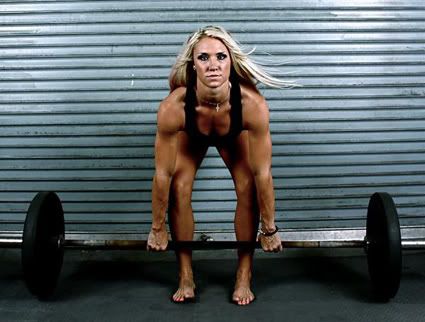 Close friends and family call her Crystal but you and I call her Ms McReynolds. A certified "Warrior Woman" doing her bit to buck the flimsy female archetype.
Her magic pill? CrossFit...plus an unwavering determination and religious consistency to working out.
She is a blueprint for 2011's
new woman
, whose body is sculpted by challenging exercise sessions and sensible eating habits. It's this commitment that led Forged Clothing to sponsor her.
Fanatical about the benefits of CrossFit, Ms McReynolds is a regular presenter on
SICFIT
, a popular website for athletes of the sport. There she reports on, and interviews the scene's key contributors.
[Photo By Clear Lake CrossFit]
Not one to just hold the mic and punch the keys she too is a seasoned CrossFit competitor and competed in the 2008 and 2009 Games, placing 9th in the later.
[Photo By Dave Re @ The 2009 CrossFit Games]
Currently a coach at
CrossFit Central
, Ms McReynolds trains other top level CrossFit athletes and guides intermediates and beginners. Her credentials? A graduate of Texas Tech with a degree in Kinesiology and minor in Food & Nutrition and a qualified level 2 CrossFit Trainer holding certifications in Gymnastics, Mobility and Underground Strength Training.
She says her passion "is to change the lives of anyone who walks in the door and trains with us here at
CrossFit Central
. I love working with all types of people whether you are out of shape, pregnant, an athlete, or stay at home mom! Whoever you are, I will make you more fit and help you bring about a new lust for life."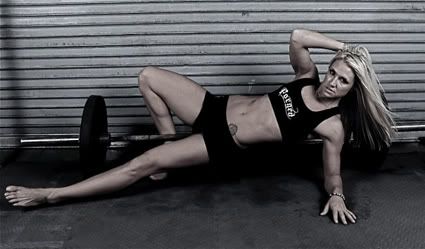 Keep up-to-date with all things Ms McReynolds here.